Whatsapp
(LENOVO STORE JAKARTA) Ada yang ditanyakan?
Klik untuk chat dengan customer support kami
LENOVO STORE JAKARTA 1
● online
+6281311712698
LENOVO STORE JAKARTA 1
● online
Halo, perkenalkan saya
LENOVO STORE JAKARTA 1
baru saja
Ada yang bisa saya bantu?
baru saja
Lenovo Thinkpad X1 Carbon Gen 9 i7-1185 16Gb 1TB SSD 14 WXGA TOUCH – Jakarta
Rp 34.900.000
Lenovo Thinkpad X1 Carbon Gen 9 i7-1185 16Gb 1TB SSD 14 WXGA TOUCH - Jakarta
Info : 0813-1171-2698
Processor : Intel i7 1185G7 - 3.0 GHz - 4.8 GHz
Memory : 16GB DDR4 On board
Storage : 1 TB (SSD)
Display : 14" WUXGA AG
VGA : Integrated irish XE graphics
Keyboard : Backlit
Touchscreen : Yes
Wifi & BT : Wifi ax201 & BT 5.0,
Other : Webcam,NO USB DVDRW
Finger Print : Yes
Card Reader : No
OS : Windows 10 Pro 64 Bit
Accesories : USB-C to Ethernet Adapter
Battery : 57WH
Weight : 1.13Kg
Warranty : 3 Years
LENOVO STORE Jakarta - LENOVO Jakarta - LENOVO INDONESIA
For Other LENOVO Pricing please contact  – Untuk Harga Laptop/PC Desktop/PC AIO/Server/Monitor/Storage LENOVO yang lain bisa hubungi :
Info : 0813-1171-2698(WA)
email : sales1@fessadistribution.com
Lenovo Thinkpad X1 Carbon Gen 9 i7-1185 16Gb 1TB SSD 14 WXGA TOUCH – Jakarta
Lenovo Thinkpad X1 Carbon Gen 9 i7-1185 16Gb 1TB SSD 14 WXGA TOUCH – Jakarta
Info : 0813-1171-2698
Features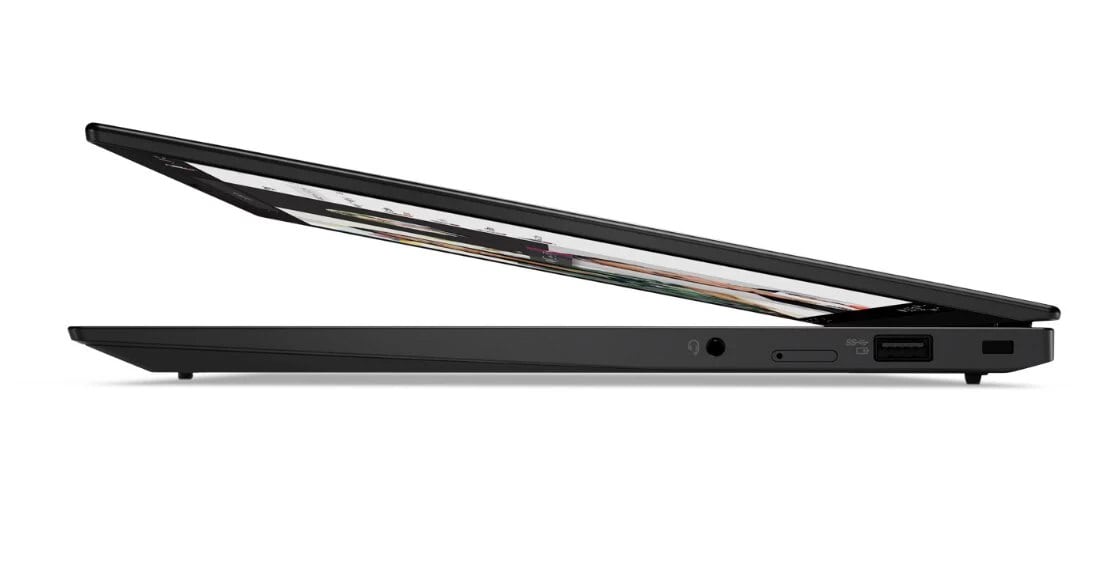 Responsiveness reimagined
With the Intel® Evo™ platform, the ThinkPad X1 Carbon Gen 9 laptop delivers a powerhouse combination of performance, responsiveness, battery life, and stunning visuals. With up to 11th Gen Intel® Core™ i7 vPro® processors, you can count on an exceptional experience, anywhere.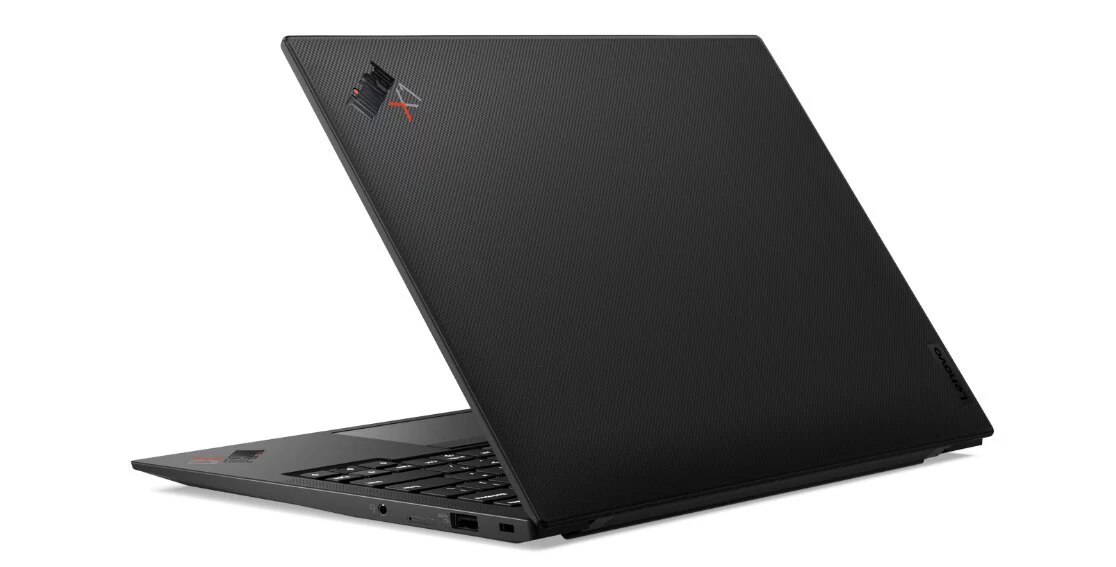 Cool under pressure
The new one-bar hinge, dual fan, and rear venting for an improved Intelligent Thermal Solution mean you can put in long hours on the job, and the ThinkPad X1 Carbon Gen 9 laptop will stay as cool as you are.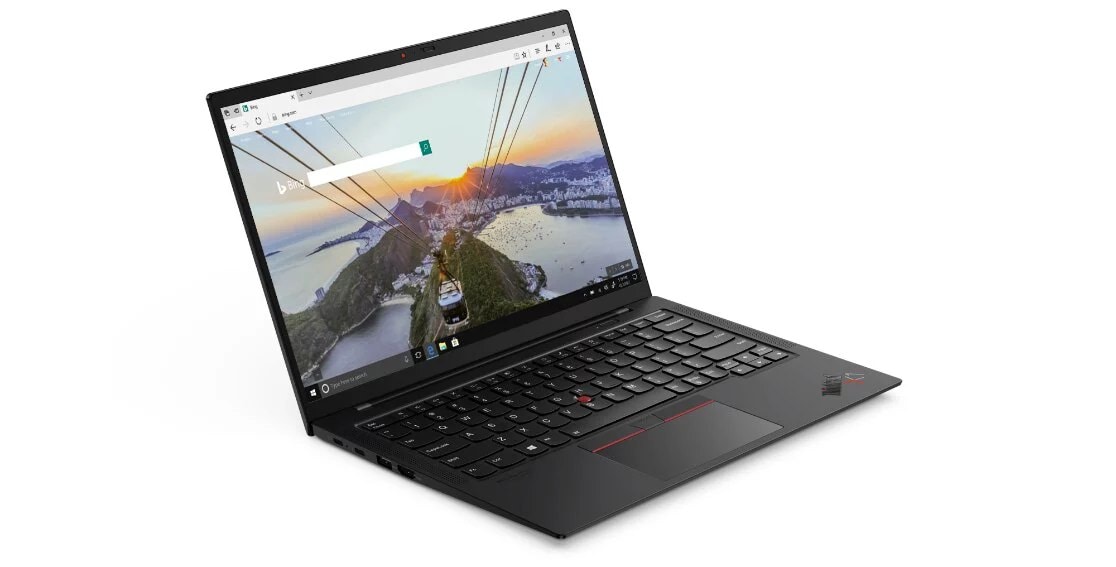 Security integrated seamlessly
With an updated suite of built-in ThinkShield security solutions, safeguards your ThinkPad X1 Carbon Gen 9 and your data. Biometrics provide an extra-secure fingerprint reader that is standard and is integrated with the power button—so you can log in and boot up instantaneously. Human-presence detection automatically locks your device when you move away, and in combination with the optional IR camera, it enables zero-touch login even from sleep. Plus, choose the PrivacyGuard display panel to ensure wandering eyes can't see what's on your screen.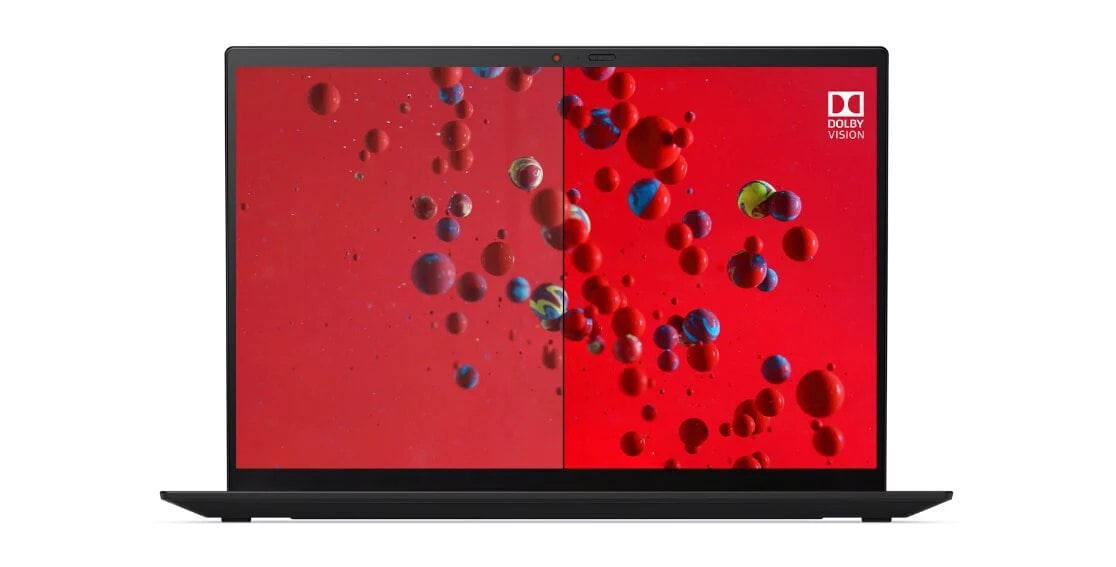 Vibrant visuals easy on the eyes
The Lenovo ThinkPad X1 Carbon Gen 9 features a refined 16:10 display with narrow bezels and a rich, high-resolution screen. Choose the UHD+ panel with Dolby Vision™ to improve your viewing experience. Powerful Intel® Iris™ Xe graphics render amazing picture clarity and color accuracy—whether you're video-conferencing, browsing, or watching media. Not only is this low-power panel energy efficient, but it's also TÜV Rheinland-certified for reduced blue-light emissions to promote eye-care health.
Not all panels include all features.  See tech specs for details.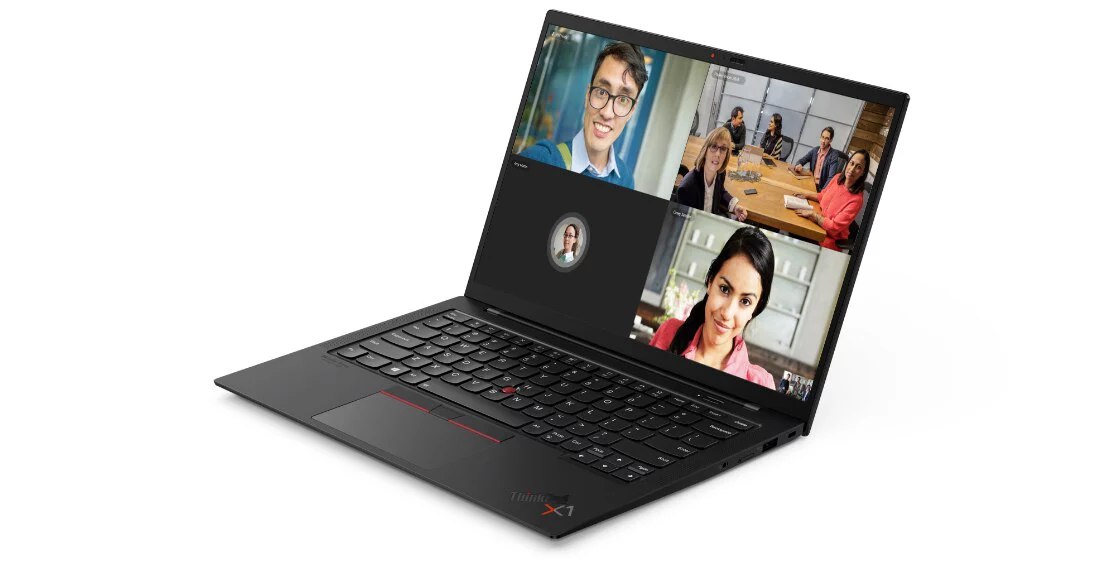 Enhanced remote collaboration
The Dolby Atmos® Speaker System on the ThinkPad X1 Carbon Gen 9 laptop includes two upward-firing speakers and two downward-firing woofers—this creates an immersive sound experience you'll enjoy for work and for play. Dolby Voice® and four 360-degree far-field mics combined with a high-definition camera for visual clarity improve remote collaboration and ensure you're heard loud and clear during calls.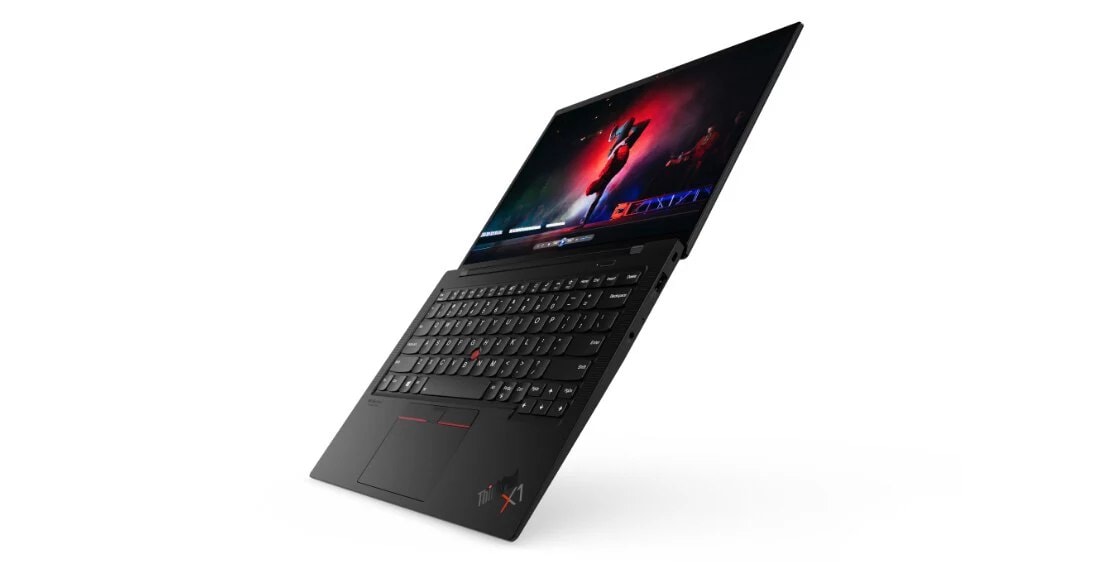 Future-proof
The ThinkPad X1 Carbon Gen 9 laptop offers a true smartphone-like experience in an always-connected PC. Speedy WiFi 6 lets you jump on crowded public platforms fast while avoiding lag-time and buffering. And with the optional 4G / 5G WWAN*, you can enjoy faster, more secure access to your network and uninterrupted video streaming. Stay connected to what matters most, no matter where you are.
* Optional WWAN availability varies by region and must be configured at time of purchase; it requires a network service provider. 4G available Spring 2021. 5G available May 2021.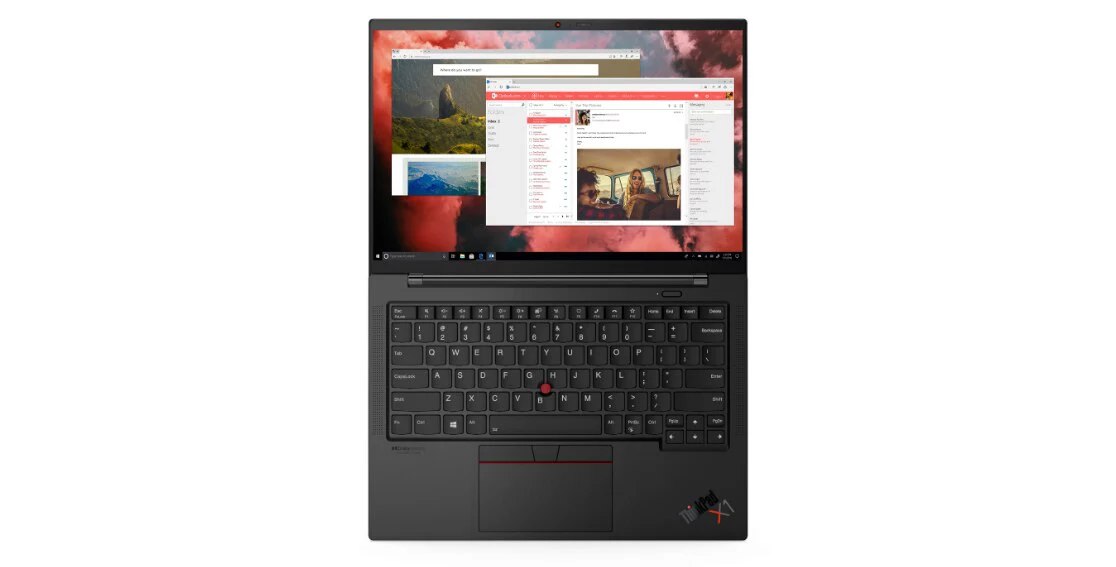 Buy this PC and get a Free upgrade to Windows 11 when available.1
LENOVO STORE Jakarta – LENOVO Jakarta – LENOVO INDONESIA
For Other LENOVO Pricing please contact  – Untuk Harga Laptop/PC Desktop/PC AIO/Server/Monitor/Storage LENOVO yang lain bisa hubungi :
Info : 0813-1171-2698(WA)
email : sales1@fessadistribution.com
Others Lenovo Products :
Tags: Jual Lenovo Thinkpad, Jual Lenovo Thinkpad Jakarta.Jual Lenovo Thinkpad Indonesia, Jual Lenovo Thinkpad X1 Carbon Gen 9, Jual Lenovo Thinkpad X1 Carbon Gen 9 Jakarta.Jual Lenovo Thinkpad X1 Carbon Gen 9 Indonesia, Jual Lenovo X1 Carbon Gen 9, Jual Lenovo X1 Carbon Gen 9 Jakarta.Jual Lenovo X1 Carbon Gen 9 Indonesia, Lenovo Indonesia, Lenovo Jakarta, Lenovo Official Jakarta, Lenovo Store Jakarta, lenovo thinkpad, Lenovo Thinkpad Jakarta.Lenovo Thinkpad Indonesia, Lenovo Thinkpad X1 Carbon Gen 9, Lenovo Thinkpad X1 Carbon Gen 9Jakarta.Lenovo Thinkpad X1 Carbon Gen 9Indonesia
Lenovo Thinkpad X1 Carbon Gen 9 i7-1185 16Gb 1TB SSD 14 WXGA TOUCH – Jakarta
| | |
| --- | --- |
| Berat | 8000 gram |
| Kondisi | Baru |
| Dilihat | 144 kali |
| Diskusi | Belum ada komentar |